October has come and gone, storylines a plentiful. European leagues and the CHL, as always, got a head start on the season, but as the calendar flipped a month they're now joined by the NHL, AHL, and college hockey ranks. The Red Wings own a glut of prospects in the latter three, making for a jam-packed month.
The Grand Rapids Griffins, Detroit's AHL affiliate, was a prominent focal point, having notable names like Moritz Seider, Joe Veleno, and Filip Larsson, among others, make their professional debut. Elsewhere, many had their eyes on Boston University, specifically, the three Detroit prospects making up the roster: junior forward defenseman Kasper Kotkansalo, and freshman forwards Robert Mastrosimone and Ethan Phillips.
Additionally, a few 2019 draft picks are making noise in Sweden, but will it be good enough for World Junior consideration?
Seider's Promising Start
Moritz Seider is 18 years old. He certainly doesn't play like it.
The number six pick from this past June's draft is eight games into his pro career. The first game or two went as you would expect for a teenage defenseman — forgettable. He picked up an assist on an empty net goal in the Griffins opener, but otherwise, it was a quiet first few games for the Mannheim product.
Historically, blue-liners who play in the AHL fresh out of the draft take some time to adjust. Results don't always come in the first year.
With that said, must I say, wow (in a good way!). Seider's latest stretch of games have been quite promising. It didn't take long for him to start getting back to the habits that made him a top ten selection. I'm inclined to say he looks like the real deal, but let's wait on that. His performance to end October was really just scratching the surface of the force he can ultimately become.
Its the physicality of Seider, in particular, that stands out. There is a whole lot of bite in his game, not shying away to finish his checks and even get a little dirty with his stick. The play below really highlights his two-way ability, pushing up ice to get the puck deep after viciously breaking up a play behind the goal-line.
Might I remind you — this kid is 18, demolishing his opponents down-low like its nothing. Not even ten games into his North American pro career.
The German D-man is starting to find the swagger in his game. He brings much more then just high-end defensive ability, displaying his intelligence with timely decisions to join the rush (both with and without the puck). He'll never be a flashy player in terms of stickhandling or a unique skating stride, but the poise, smarts, and physical edge he brings makes for a potential work horse in the NHL one day.
It's all starting to make sense. The boldness behind "going off the board" is a concept that is often criticized, but one few care about as long as a good player is the end result. Steve Yzerman and the Red Wings scouting staff took the player that, in their minds, was the best available, consensus be damned. Its early, but the early signs have been promising.
Get excited, folks.
The B.U. Wings
Two members of Detroit's 2019 draft class — Robert Mastrosimone and Ethan Phillips — have gotten a pretty good chance to get to know one another. Both B.U. commits, Mastrosimone since 2015, Phillips 2018, have started off their collegiate careers on the same line. Phillips mans the third-line center role with Mastrosimone flanking him on the right side.
The chemistry between the two has been evident right from the start. In B.U.'s season opener against Union College they both recorded two points. Yet, somehow, that was nowhere near telling of just how potent they were that night. Phillips, in particular, left a whole lot of genos on the table. In all honestly he could have walked away with 4 or 5 points.
One example of the connection they've formed (Phillips #28 in red, Mastrosimone #16 in red):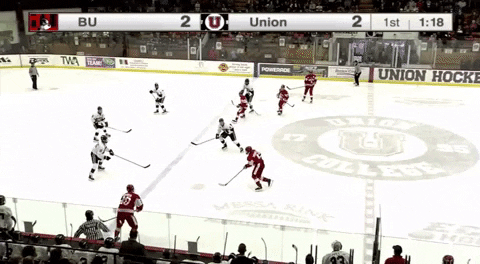 Luckily, they were able to find the back of the net later on in the game. Mastrosimone picked up his first career collegiate goal, which, poetically, was assisted by Phillips and Kasper Kotkansalo, another Detroit prospect.
Mentioning Kotkansalo, the 2017 third rounder made headlines for the Terriers, but not in the way you would expect. Following several injuries to the forward group, B.U. head coach Albie O'Connell opted to move Kotkansalo to center for their matchup with the UMass Lowell River Hawks, despite the Fin being a shut-down defender.
It was certainly an interesting move to follow, but Kotkansalo has since returned to his normal defensive position.
Swedish Success
Hakan Andersson, who currently serves as the Red Wings' Director of European Scouting, was a busy man in Vancouver back in June. With it being Yzerman's first draft as Detroit GM (without his own hand picked scouts to work with), his reliance of Andersson was evident. In the
eight drafts Yzerman oversaw in Tampa Bay
, the Lightning only drafted a Swede once (and 34 CHL players, the most by far). At the 2019 draft alone, with Yzerman at the helm, they selected 4 Swedes (and zero CHL players).
So it's obvious Yzerman wasn't a major influence in most of the day-two picks. It was up to Andersson to work his magic. Those four Swedes that Andersson nabbed have certainly had intriguing starts to the 2019-20 season.
Albert Johansson has been getting an extended look from the Farjestad mens team. Since being called up, Johansson is averaging 13:12 TOI over nine SHL games. More noteworthy is how he has quickly gained the trust of his head coach. See how his ice time has progressively increased every few games:
So far the second round pick has registered three assists, two of which can be seen below:
Johansson has only played in 3 SHL games so far, but seeing as his ice time jumped from 6 minutes to 15 he might be staying up for the time being. Here is his first two assists with the Farjestad mens team (#33) pic.twitter.com/MM8Zej9rLn
— Cameron (@CameronKuom) October 11, 2019
Looking elsewhere in Sweden, Elmer Soderblom has been on a tear in the Swedish junior league. Scoring 5 points in October helped him surpass his point totals from last year. Soderblom currently has 22 points in 17 games, in comparison to last season in which he put up 17 points in 44 games. Big improvement.
Soderblom has clearly shown to be too good for junior hockey, however, a loan to the Allsvenskan (Sweden's second tier mens league) will have to wait. Frolunda J20 recently loaned Karl Henriksson to the Allsvenskan, making it unlikely for them to release Soderblom in the near future.
Notes
One of the feel good moments of the month came courtesy of Joe Veleno. The former QMJHL star scored his first pro goal and the celebration he shared with Filip Zadina was a truly awesome moment. The goal:
Story:
Givani Smith was slapped with a one game suspension from the AHL for clipping. After serving the suspension, Smith was called up to make his NHL debut. He played three games with the Red Wings.
Defense prospect Alec Regula was dealt to Chicago for winger Brendan Perlini. With the way Grand Rapids' defense is shaping up for next season, there was likely to be no room for the London D-man.
Albin Grewe has been bouncing up and down the Djurgarden system for most of the season. In one of his SHL outings, Grewe was able to find the back of the net for his first career SHL goal. A huge milestone for the 18-year-old.
Jonatan Berggren and Otto Kivenmaki will be heading to Helsinki, Finland, for a Four Nations tournament. Participating in this camp is an indication they are in strong consideration for their respective nation's World Junior team.
Jesper Eliasson only started in three games this month. The reason for the little ice he's been seeing is because he was recalled by Vaxjo of the SHL to be their backup, following an injury to a regular. Hopefully he'll be returned to Almtuna soon.
Per report, Ryan O'Reilly has decommitted from the University of Denver. O'Reilly is currently in his third USHL season.
October Statistics
All the statistics below are from games played in October. This section only includes regular season stats, so no tournament numbers are included. To keep track of each prospect's season on a game-by-game basis, make sure to check out the Red Wings Prospect Master Schedule spreadsheet:
Skaters
| | | | | | |
| --- | --- | --- | --- | --- | --- |
| PLAYER | LEAGUE | GP | G | A | P |
| John Adams | NCAA | 0 | 0 | 0 | 0 |
| Seth Barton | NCAA | 8 | 1 | 2 | 3 |
| Jonatan Berggren | SHL | 8 | 0 | 4 | 4 |
| Gustav Berglund | SHL | 3 | 0 | 0 | 0 |
| Gustav Berglund | SuperElit | 4 | 1 | 0 | 1 |
| Albin Grewe | SHL | 8 | 1 | 0 | 1 |
| Albin Grewe | SuperElit | 4 | 1 | 1 | 2 |
| Joe Hicketts | AHL | 8 | 0 | 7 | 7 |
| Patrick Holway | NCAA | 0 | 0 | 0 | 0 |
| Albert Johansson | SHL | 9 | 0 | 3 | 3 |
| Alexander Kadeykin | KHL | 13 | 3 | 1 | 4 |
| Oliwer Kaski | AHL | 6 | 2 | 1 | 3 |
| Otto Kivenmaki | Liiga | 11 | 0 | 1 | 1 |
| Kasper Kotkansalo | NCAA | 5 | 0 | 2 | 2 |
| Ryan Kuffner | AHL | 7 | 3 | 1 | 4 |
| Gustav Lindstrom | AHL | 9 | 0 | 0 | 0 |
| Robert Mastrosimone | NCAA | 5 | 2 | 2 | 4 |
| Jared McIsaac | QMJHL | 0 | 0 | 0 | 0 |
| Cooper Moore | BCHL | 11 | 3 | 1 | 4 |
| Chase Pearson | AHL | 5 | 0 | 2 | 2 |
| Ryan O'Reilly | USHL | 4 | 1 | 1 | 2 |
| Ethan Phillips | NCAA | 5 | 0 | 2 | 2 |
| Michael Rasmussen | AHL | 6 | 2 | 5 | 7 |
| Vili Saarijarvi | AHL | 3 | 0 | 0 | 0 |
| Moritz Seider | AHL | 9 | 0 | 3 | 3 |
| Malte Setkov | SHL | 10 | 0 | 0 | 0 |
| Givani Smith | AHL | 5 | 2 | 2 | 4 |
| Elmer Soderblom | SuperElit | 11 | 3 | 10 | 13 |
| Evgeny Svechnikov | AHL | 4 | 1 | 4 | 5 |
| Antti Tuomisto | JR. A SM-Liiga | 9 | 2 | 4 | 6 |
| Dominic Turgeon | AHL | 9 | 1 | 5 | 6 |
| Kirill Tyutyayev | MHL | 0 | 0 | 0 | 0 |
| Joseph Veleno | AHL | 9 | 2 | 0 | 2 |
| Filip Zadina | AHL | 9 | 2 | 2 | 4 |
Goaltenders
| | | | | | |
| --- | --- | --- | --- | --- | --- |
| Player | League | GP | GAA | S% | Record |
| Victor Brattstrom | Allsvenskan | 9 | 2.31 | .902 | 6-3-0 |
| Jesper Eliasson | Allsvenskan | 3 | 2.02 | .897 | 2-1-0 |
| Kaden Fulcher | ECHL | 1 | 6.01 | .833 | 0-1-0 |
| Carter Gylander | AJHL | 8 | 1.50 | .943 | 8-0-0 |
| Filip Larsson | AHL | 3 | 2.69 | .889 | 2-1-0 |
| Keith Petruzzelli | NCAA | 5 | 2.20 | .909 | 4-1-0 |
| Joren Van Pottelberghe | NLA | 5 | 2.22 | .927 | 4-1-0 |