When hockey people think about the current state of the struggling Detroit Red Wings, there are a few names that come to mind. Immediately it is the current stars of Dylan Larkin, Anthony Mantha, or Tyler Bertuzzi. For others it is the top prospects in the pipeline, like Filip Zadina and Joe Veleno, or the shocking selection of Moritz Seider at the 2019 NHL Draft.
But few think of Filip Hronek. Perhaps that's because the success of NHL defensemen is harder to quantify, or maybe it's because he hasn't had a league-wide breakout yet. Regardless of whether it's being noticed or not, it's true: Hronek is quietly becoming a major part in Detroit's rebuild.
A workhorse in the making 
The most obvious area that highlights Hronek's importance to the team is the amount of time he plays. Even for a coaching staff that has been rather hasty to scratch younger players at times, Hronek has rarely even been considered for a scratch and instead is given more time than anyone else. Indeed, Hronek leads the Red Wings defense in average time of ice (ATOI), averaging 23 minutes per game this season, which places him 33rd among all defensemen league wide. When you look at the names who average more than him it is excellent company, from bonafide superstars like Erik Karlsson, Drew Doughty, and Mark Giordano to fellow young stars like Thomas Chabot and Miro Heiskanen.
This of course is rather intuitive: you have to play well to get that much playing time. The fact that Hronek is on the ice as often as he is for the Red Wings is indicative of his play and also the trust that Jeff Blashill seems to already have in him. Not to mention, his ATOI is also important when discussing his development, since most young NHL defensemen are not deployed as often as Hronek is. The only defensemen younger than Hronek who receives similar or more minutes is Heiskanen, Charlie McAvoy, and Samuel Girard (who has slightly less ATOI than Hronek). Right now Hronek is not quite 22, yet is on the top power-play unit, top pair, and is shouldering a very significant amount of minutes. That in and of itself is impressive.
Offensive production
Hronek has continued his strong finish to last season by producing in the offensive end, now with 3 goals and 4 assists for 7 points in 13 games this season. This strong start also comes on the heels of finishing 2018-19 on a tear. After being recalled for the third (and final time) last season on February 17, Hronek closed the year with 2 goals and 11 assists for 13 points in 23 games.
Put together, in his last 36 NHL games, Hronek has scored 5 goals and 15 assists for 20 points. That is a pace that over a full season would amount to roughly 46 points, which would have been in the top-20 of all NHL defensemen last year.
Basically, since becoming a full-time regular in the NHL, Hronek has been a significant offensive producer from the blue-line. A big part of Hronek's production continues to be on the power play, where his lethal slap shot can be unleashed. This occurred most humorously on a "Third Time's The Charm" goal earlier this season:
Another instance comes from last season when the Hronek cannon helped to beat Boston: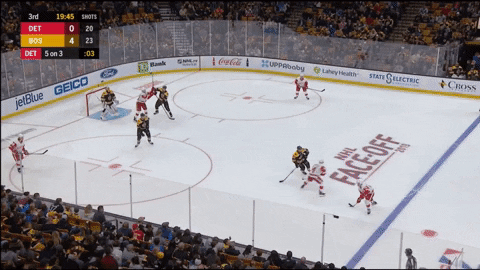 That slap shot is an absolute beauty, but his offensive prowess goes beyond just his shot. His ability to get pucks on net, as well as his willingness to pinch in and forecheck on occasion, provides a significant boost to the Red Wings offense. A reliable, young right-hand shot defenseman is something that Detroit has lacked for awhile and Hronek provides that in style.
Analytical success
I have always been impressed by Hronek's advanced metrics and that has continued into this season. I noted last year that he graded out especially well in possession numbers, and that has carried over, as has other offensive stats.
Following the most recent game against Edmonton, Hronek's 5v5 CF% Rel. (or how much more Detroit possesses the puck at even strength when Hronek is on the ice compared to off of it) is 7.3%, which is 16th among all defensemen with at least 6 games played. Furthermore, while fellow defenseman Dennis Cholowski is also in the top-30 of 5v5 CF% Rel., an important distinction is offensive zone start rate.
Generally speaking, you should be expected to possess the puck more and produce more offense if you start in the offensive zone more frequently, and this is often a coaching decision. Players who are more "trustworthy" tend to be put in the defensive zone. While Cholowski is mostly sheltered, with a 58.9% oZS%, Hronek starts in the offensive end just 42.7% of the time. Of all defenders in the top-30 in CF% Rel., only Ian Cole and Adam Fox started in the offensive zone less than Hronek. This applies to xGF, where Hronek also ranks in the top-30, as well as High Danger Chances For, where Hronek ranks in the top-25. He has been among the best in making something out of nothing offensively, given how often he enters the ice in his own end.
Conclusion
This article should not be blown out of proportion. I'm not here to try and say that Hronek is a franchise player or anything of the like, though that could be true down the line. Rather, I'm arguing that he is an important piece of the rebuild that deserves much more attention. While he may not have the explosive talent of a Cale Makar or a Quinn Hughes, Hronek is silently solid and has a meaningful future with this team.
It remains to be seen what Hronek's ceiling in Detroit is, but it is of the utmost importance for Red Wings fans to try and monitor his development. Are there aspects of his game that need improving? Yes, particularly in his own end. But Hronek is a raw offensive talent who has already been shown to be more mature than most defenders of his age, given that he's still only played 59 career NHL games (!).
While he may not produce as much as Larkin or Mantha by virtue of his position, that doesn't mean Hronek isn't still vastly important. So pay attention to him when he's on the ice, because he could be a key piece of the franchise for a while.
Advanced stats via Hockey Reference and Natural Stat Trick