It is no secret to any Detroit Red Wing fan that the Wings are not a good team. In fact, it seems to have been a general consensus among the fan base and media for years now that this was not a team in contention for Lord Stanley's Cup. The only person who hasn't received that memo is Ken Holland, who wrote off the debacle that was last season as an anomaly and for about a decade has refused to accept that this team was not a contender. He has doubled down on that bet by adding a moderately priced veteran defenseman in Trevor Daley and two superfluous parts in David Booth and Luke Witkowski. I think we can all agree these were unnecessary moves aimed at making a run to get into the playoffs in the inaugural season of Little Caesars Arena.
Jeff Blashill has arguably been worse than Holland since taking over for Mike Babcock as the Head Coach. The progression/development of many players came to a screeching halt and, in several cases, a level of regression has set in. In others (Mantha, Larkin, Athanasiou), he's unequivocally botched their development. That said, I'm not among the #FireBlashill throng (though I am arguably the leader of the #FireHolland movement) because I believe that he gives this team the best chance of truly embracing a rebuild – simply because he is in the argument for the worst coach in the NHL. He has the "smartest-guy-in-the-room" syndrome and truly believes that his asinine moves and constant tinkering are going to eventually result in a winning hockey club. Consider that opinion… now, are these two the worst coach/GM combo this floundering sports city has to offer?
Below is a quick overview of each of the four major Detroit franchises and my opinions, mixed with some stats as to their individual states and then comparing said state to the Red Wings:
Detroit Lions
Just yesterday, this franchise was thrust to the forefront of Detroit sports media and it wasn't because of the fact that they threw away a chance to make the playoffs but because Joseph Hayes of the Times Herald published an editorial claiming that the calls for Jim Caldwell to be fired were not based on merits (or lack thereof) but instead because of his race. To be clear, if there was any merit to this claim, I would be among those calling for a change elsewhere within the organization, but reality is there is no PUBLIC information to support this. Caldwell has been successful, yes, in fact more successful than nearly all of his predecessors (singularly relative to winning percentage). Since the inception of the franchise, his winning percentage of .556 is surpassed by only Buddy Parker and Potsy Clark (I did not include coaches that were interim and/or coached less than 2 full seasons). George Wilson was close behind with a .538 winning percentage but was the coach of the last Championship team for the Detroit Lions (instantly makes him more successful regardless of the changes in the game). Wayne Fontes is a fair bit behind Caldwell at .496 but coached nearly twice as many games and suffered through three losing seasons to start his career while they struggled to rebuild the roster. Ultimately, from year four onward, he went 51-45. In that stretch, he won 2 NFC Central titles and won the only playoff game the Lions have won since 1957 (again, winning percentage aside, that is more successful). Fontes' success did not save him from being fired after a poor season and John Fox was fired in Denver despite being at the helm of an elite Denver team that lost in the Divisional round of the 2014/15 NFL playoffs (a fair bit better than the Lions and two exits during wild card rounds during Caldwell's tenure). The point is, a winning record does not always paint a picture of success and it should not be the measuring stick for tenure. Marvin Lewis, is a prime example, he is by all accounts a great person and an above average head coach in the NFL but has never been able to put Cincinnati in a position to win a Super Bowl; despite some supremely talented rosters in the past. He also happens to be one of the longest tenured coaches in NFL history. Cincinnati may be able to accept slightly more than mediocrity, but I cannot and nor should Detroit Lions fans.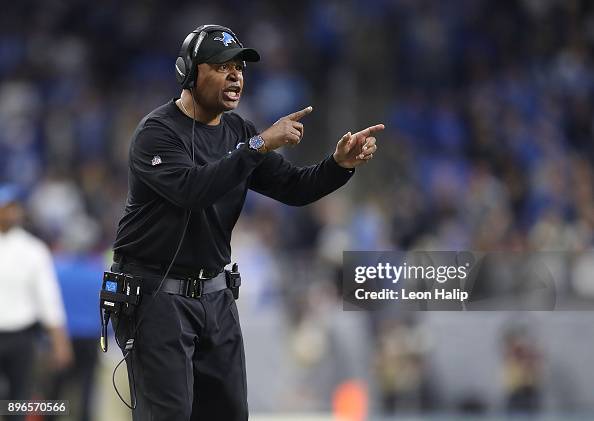 Caldwell, by all accounts, is a superb human being and has shown his ability to be an above average to great offensive coordinator but-his record notwithstanding-his ability as a head coach is average. Bob Quinn had a rough off-season (primarily the draft, he was unanimously applauded for the signings of Lang and Wagner) leading into this season but previously was successful and appears to have a good grasp on what is needed to win in the NFL. The roster, as currently constructed, is significantly better than it ever was under Millen/Mayhew. The attention paid to problem areas in just two years surpasses the efforts of the entire Millen/Mayhew era. I'm specifically referencing the offensive line. Hayes places blame on the inability to put together a potent offensive line but fails to acknowledge that the personnel aspect is not the issue. At the beginning of the season, the Lions had a 1st round pick at LT, a 3rd round pick at LG, a 3rd round pick at C and two very high priced offensive lineman at RG and RT (four of the five are either in their 1st or 2nd year with the Lions). This screams coaching, not racism, and further supports the assertion that Bob Quinn has, at the least, a theoretical understanding of building (and sustaining) a winning NFL franchise. Regardless of your opinions of Hayes, Caldwell and/or Quinn, the state of this franchise is certainly better than the Red Wings, if for no other reason than because they have a GM that at least appears to be competent and benefit from having at least a couple high end talents.
Detroit Pistons
Stan Van Gundy may be the best thing that's happened to the Pistons since Larry Brown and it's really not a stretch of the imagination. Despite the fact that he was unfairly disparaged in the article referenced above, Van Gundy has overhauled this roster and turned the team into a watchable product again (attendance numbers notwithstanding). They currently sit 4th in the Eastern Conference and at this point they appear to be a legitimate contender to hold that four seed (it's unlikely they can beat out Boston, Cleveland or Toronto) and host a playoff series for the first time in ten years. The landscape of the NBA is very different than the other major sports. Winning a championship in the NBA is almost impossible without having multiple stars. This began years back when Lebron and Chris Bosh moved to the Miami Heat to play with Dwayne Wade but obviously came to a front when Kevin Durant joined the Golden State Warriors before last season. The reality is, the NBA is and has always been a superstar driven league; it has just hit the crescendo of that trend in recent years. The 2004 Pistons were one of the few teams that were able to break through that trend but certainly did not and do not fit the paradigm of the structure of an NBA roster. So, for a team this young to be in a position to win 45-50 games and maybe, just maybe, have a chance to make some moves in the off-season to improve the talent (depth doesn't appear to be an issue with this team, but it does lack a high end player and it most certainly does not have the intangibles of the 2004 team that transcended the superstar culture) has put the Pistons in a better position than the Red Wings for future seasons.
Detroit Tigers
Justin Verlander is gone, JD Martinez is gone, Ian Kinsler is gone and Victor Martinez (who just turned 39 and has a ridiculously long injury history) is still going to be donning the Old English 'D" this season. I'm not sure there is anything more that needs to be said. Okay, there is one thing.
Ausmus was fired and Avila did the only thing he could do in an effort to keep his job: he sold every movable asset the Tigers had. He's even explored moving younger players like Fulmer [presumably] with the understanding that the Tigers are going to be bad for a while. A player like Fulmer, who is on a rookie contract and under team control for years to come is a highly sought-after asset and could command a couple A-level prospects and another B-level prospect (or two). The point is, Avila did what was best for the team, even though it meant confirming that the window was finally shut. He doubled down on that by bringing in a manager that has a history of working with young teams that lack high end talent and getting the most out of them. Was the Ron G hiring uninspired? Absolutely! But it was a safe, smart move that won't rock the boat and SHOULD provide some stellar coaching and nurturing for a roster that is certain to be among the worst for the next few seasons. One can make an argument that the state of this franchise is worse than the Wings but my vote still lies with the Wings and it is simply because the Tigers accepted that the window was closed and moved on (a year or two late but that is better than ten years too late).
Detroit Red Wings
Quickly recapping, the Red Wings missed the playoffs for the first time in 25 years last season and will miss the playoffs again this season. They did not end up with a top-5 pick last season because of a failure on the Holland's part to sell more pieces and were recently given a handicap that equated to a 51% chance that they would again miss the playoffs but fail to obtain a top-5 pick. Now, this could change drastically if the tank is finally embraced; I for one do not have confidence that a fire sale will take place, though. They have once promising players that have regressed significantly across their roster and routinely fail to put their young players in a position to succeed and/or grow. Moreover, the coaching staff does not seem to have the wherewithal to adjust on the fly and fix in game issues.
The state of the Red Wings can be argued as better than the others (at least the Tigers). Primarily, there is young talent that appears to have the ability and talent to be borderline all-stars (that being said, none of them are superstar level talent). In addition to that, Holland at least showed that he can swing decent deals when selling, based on his moves last season. It can even be bolstered by the fact that both Holland and Blashill will likely be replaced in the off-season. Finally, if the selling starts soon enough and there is a mandate from ownership to move what can be moved and play the young guys, there is a chance that the Wings could end up with the record in the bottom five.
With regard to any 'mandate' from ownership, I would point everyone in the direction of the article written just yesterday by our own Nick Seguin. He makes several good points and generally lays out a solid blueprint for how this organization/team can IMPROVE (for those of you that are far less cynical than I) in the New Year. However, I found a rather important point was that from top to bottom these guys need some freedom. This is primarily tied to Holland and/or Blashill letting these young kids loose (the kids, for their part, have to be willing to accept that freedom as a challenge and step up to the figurative plate), but it also is tied to ownership. "To Ken Holland and the rest of management, it's about getting creative with the roster and their salary cap situation", such a simple and yet surprisingly profound suggestion from Nick. Frankly, I couldn't agree more with him on this one. It is imperative that this take place and if Chris Illitch needs to step in to make it happen, then so be it. Holland deserves a parade for all he's done but if his machismo creates an unwillingness to prepare for the future then he should no longer get to ride off into the sunset.
In the end, I have serious reservations about Holland agreeing to sell early in a lame duck year and I have serious reservations about Blashill agreeing to sit veterans in a season he likely needs to show marked improvement to keep his job. It is due to those reservations that I believe the Red Wings,for the first time in over a quarter century, are in the worst state with regard to the major Detroit sporting franchises. As a fan, I hope I'm wrong and we will see them embrace the need for change but as a pragmatist and a student of history, I don't believe that I am.