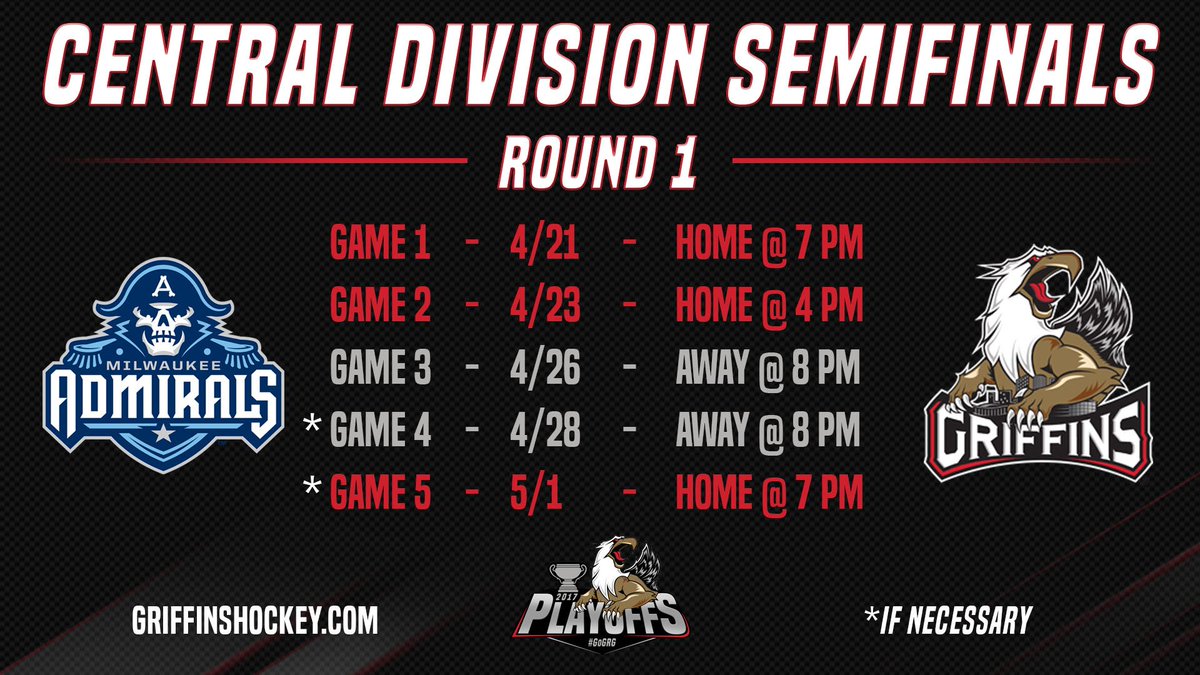 It's not the Detroit Red Wings in the postseason, but there will be professional playoff hockey in Michigan this year.
Okay, so AHL playoff hockey doesn't stack up at all to its NHL counterpart, but it's still better be be in the league's final 16 than to be out of it.
The Grand Rapids Griffins will be in the playoffs for the fifth consecutive year, matched up against the Milwaukee Admirals.
From the AHL website, here's their schedule:
Central Division Semifinals – Series "F" (best-of-5)
C2-Grand Rapids Griffins vs. C3-Milwaukee Admirals
Game 1 – Fri., Apr. 21 – Milwaukee at Grand Rapids, 7:00
Game 2 – Sun., Apr. 23 – Milwaukee at Grand Rapids, 4:00
Game 3 – Wed., Apr. 26 – Grand Rapids at Milwaukee, 8:00
*Game 4 – Fri., Apr. 28 – Grand Rapids at Milwaukee, 8:00
*Game 5 – Mon., May 1 – Milwaukee at Grand Rapids, 7:00
*if necessary… All times Eastern
I won't pretend to know tons about the Griffins as I literally have not watched them play all year. However, they do have a familiar.
If you're close by, the games are usually worth checking out and you'll have two (maybe three) chances to check them out at home. If you're not, what I hear is a subpar streaming service at AHLLive.com, and potentially some local broadcasts (stay tuned for details).
The most exciting player on the roster remains Evgeny Svechnikov, but keep your eyes out for Jared Coreau, Joe Hicketts, Dennis Chowlowski, Givani Smith, Tyler Bertuzzi, and new signing Patrick McCarron.