Adam Laskaris
December 19 2016 06:59PM
Well, if the Wings tank their season moving forward, they've got a new scapegoat to blame.
As you may have heard by now, the Detroit Red Wings were scheduled to take on the Carolina Hurricanes tonight at 7:00 p.m. Everyone was all hyped up and #jazzed to play a great night of Eastern Conference National Hockey League Monday night action.
Unfortunately, we'll never know how that game turned out.

Shortly before the teams were set to take the ice for warmups, the Hurricanes tweeted out that their ice's cooling system as having an issue.
We are experiencing a delay due to an issue with the cooling system that just arose. #DETvsCAR

— Carolina Hurricanes (@NHLCanes) December 19, 2016
At 8:43 p.m., none other than Ken Holland broke the news that the game was finally being put to rest.

Per Ken Holland, #DETvsCAR cancelled. Poor ice delayed start too long given Wings have 7:30 pm game Tue at TBL

— Helene St. James (@HeleneStJames) December 20, 2016
No word yet on a makeup date.
Adam Laskaris
December 17 2016 08:35PM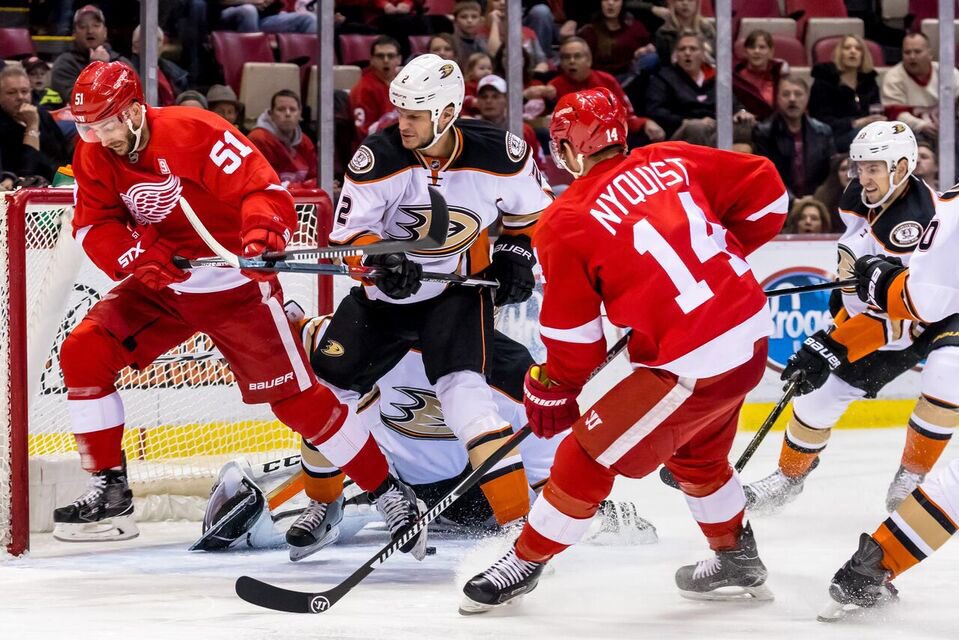 Photo courtesy: @DetroitRedWings
Fact: the Red Wings had three goals in their past four games coming into tonight. They doubled that number in just one game tonight. Call it unconventional, streaky, or whatever else you want. What it is though, is definitely worth the two points the Wings earned tonight.
Adam Laskaris
December 15 2016 08:56PM
Well, that was dreadful.
In a string of weak games for the Red Wings, tonight may have been their ugliest performance of the season. Starting off weak and only getting worse, the Red Wings saw themselves fall to Jeff Zatkoff and the Los Angeles Kings by a 4-1 score. While the scoreline itself isn't a rout per se, watching the Wings play this game really was physically painful.
Adam Laskaris
December 09 2016 04:49PM
The Red Wings head into tonight's matchup at 13-11-3. Not the world's most desirable record, but far from disastrous. However, they're currently sitting four points out from a playoff spot in a tough Eastern Conference and the roster's been rife with questionable lineup decisions and lacklustre performances. So in this up-and-down Wings season, we turned to our staff to try to find this season's MVP so far.
Adam Laskaris
December 04 2016 11:50PM
Hoo boy, that was a fun one. Well, fun in some sense of the word. Nerve-wracking, sure. A little bit of discontent tossed towards the refs? Well, you bet. But all in all, two points.